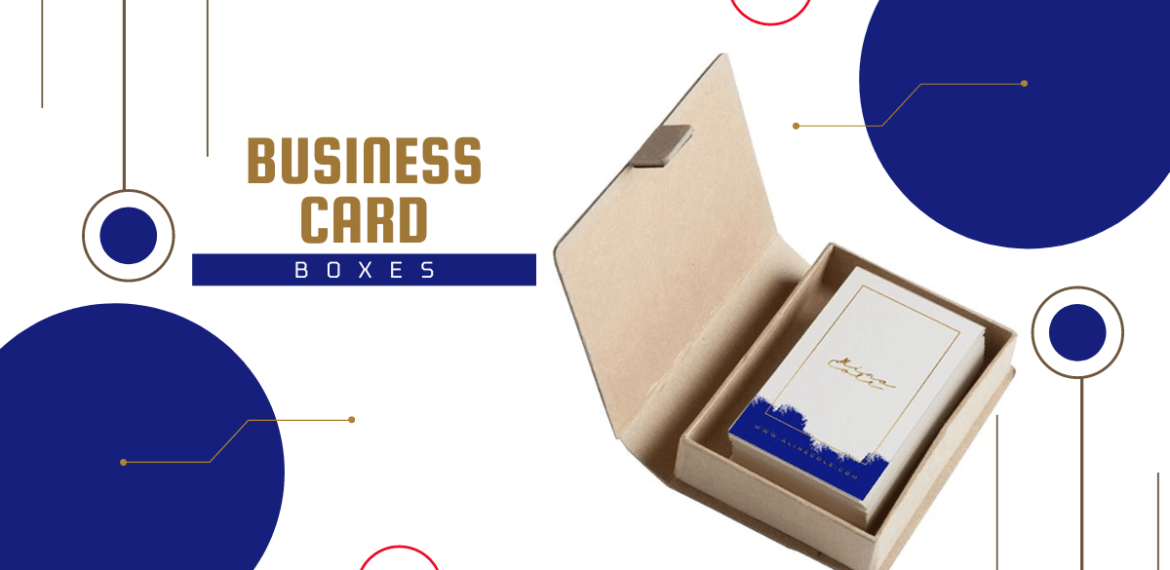 Comments Off

on Business Card Boxes: Grow Your Business Manifolds!
Business Card Boxes: Grow Your Business Manifolds!
Promoting a business is the primary requirement for many. In essence, this is the priority in every business. But it is ideal to note that excessive spending is not necessary to advertise. This is because several packaging boxes present you with this opportunity. Among them, Business Card Boxes top the charts since they are purpose-built for this.
Business, Cards, and Boxes
The difference is easy to understand between business and cards. Each business looks for various modes of advertisement. However, some methods are uniform for each business. And these include business cards. These cards offer useful details of business and present a business' image to the full. But their placement on the desk does not need to be ordinary. In essence, if you do not care about the presentation, there will be no use of advertisement.
To improve this presentation, boxes come into the play for cards. These boxes carry a small shape and uniform design. However, you can customize and modify their styles to improve the outlook. Various tweaks make your boxes stand out and thus give a great look for your cards. Business owners cannot travel without these boxes likewise. They often carry thin boxes to carry useful cards during business meetings. Hence, the importance is manifold.
Boxes versus Shoppers and Bags
Although in the case of business cards, shoppers and bags do not find any use. But there is general knowledge that people must understand regarding these materials. These materials lack in many aspects and thus lend no help. Boxes on the other hand present a useful option for packing. In addition, boxes carry great additional factors that stand out.
Bags and Shoppers
Both of these materials present zero stiffness and rigidness
There is no strength in these materials
Safety and security properties lack greatly in shoppers and bags
Neither of these offers a complete covering
Bags require you to carry them through perfection
Shoppers offer a carrying space but no shape
Boxes
Stiffness is of the highest order with boxes
Boxes present useful advertising options for businesses
Easy customizations and tweaks will allow you to improve the outlook of your products
The ability to recycle and prolonged usage over time makes boxes a favourite for the environment
Customizations Available to Improve the Outlook
Boxes are favorite among sellers and manufacturers since there is empowerment for users. End-users easily manage how they wish to stylize their box. And this means ways to advertise, change the design, and introduce useful additions. All these ways lead to an efficient box carrying your valuable goods.
1. Size
Consider the desirable size of your box. For this, you need to consider the purpose of your box. If you want to deliver cards in bulk, you can select a huge size. However, for office use, a small size will do the best.
2. Design
Boxes for business cards do not present diverse design options. But to stay safe, you can select from general box designs. These include die-cut, telescope, and tray designs. Using either design, you can easily hold and access your cards.
3. Windows
Windows in your box offer a look at your product inside. In the case of business cards, your window can be different. The best option is to offer a cut space on your box. This will give a view alongside accessing option. Or a regular window will do the best.
4. Branding
Your Business Card Boxes are of no use if there is ineffective branding on them. These boxes do not have to include loads of advertisements. In essence, all you need to display is the logo and trademark at best.
5. External Covering
It is good to add external additions to your box. These include adding a matte portion to your box or giving a 3D effect to your logo. Moreover, a gold or silver foiling will appeal to customers greatly.