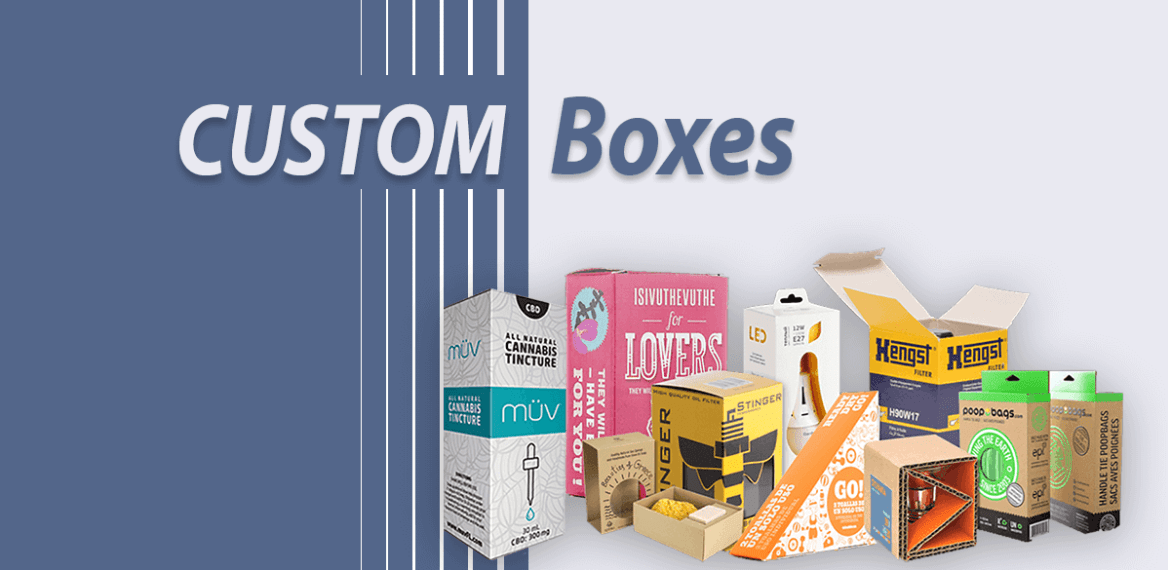 Custom Boxes: Customization Power for You!
Custom Boxes: A new industry or manufacturing plant has to consider a lot of things. At first, it needs to consider the materials that will help to manufacture the goods. However, there need to be other factors that require consideration. These include selling points, customers, and economics. For most manufacturers, the points to ponder end here.
But for the ones that want to cover all the sides. There is another aspect to look at. And that is the packaging. Every manufacturer and industry produces goods and products. But all these products require a covering for products likewise. Hence, there is wide importance and requirement for packaging. Boxes present the option to pack and cover the goods likewise. Hence, there is demand for the packaging industry in abundance. To overcome this requirement, boxes come in diverse options.
Thus, they fulfill the diverse requirements that arise over time. Among boxes, Custom Boxes, find more acceptance and importance. A key factor is the customization ability they carry. Manufacturers find great help to stylize them and alter the outlook. Hence, a single elegant box can be turned into something magnificent.
Boxes and Packaging
Covering is what everything requires these days. It is best to understand this fact since everything is under inflation these days. The sellers and manufacturers find it hard to sell their products. And to enter this business is not easy. But with some tricks, you will easily establish your brand and sell in bulk. This is the packaging that brands acquire for their products. Packaging products at first provided people with a covering. However, over time with diversity in products, there is diversity in packing boxes.
Custom Boxes offer this unique option to people alongside simple options. A covering is only for the outlook. But an efficient one provides the best accommodation for your products. Customizations do not come from the outlook only. In essence, these come from the inside and sometimes from the materials that make the box. Such diverse options do not come from all packaging products.
Benefits with Boxes
It is difficult to consider what fine product a box is. However, you can understand the basics with the following points.
Boxes offer people an economic option to pack their goods
It offers diverse options through materials, styles, designs etc.
With boxes, there is ease to pack diverse products however you require
Recycling is a useful aspect that comes with boxes
Rigidness and stiffness vary with materials. Thus you can easily opt for the perfect box.
Downgrade with Shoppers and Bags
Although boxes have a lot to offer apart from the above points. There is a lot of that boxes compete with other packaging products. This is through cost and availability. But various aspects lack in other packaging products. Shoppers and paper bags are other products that present a covering option. However, there is no proper covering even that comes with them.
Here is where they lack.
Bags and shoppers carry zero stiffness and strength
Shoppers do not offer any covering apart from a transparent outlook
Paper bags contain no covering at the top and no carrying spaces
Among bags and shoppers, bags present the highest degree of downgrades.
Both these products cannot carry heavy items with ease
In addition, the carrying responsibility lies on the carrier
In this light, it is easier to consider what product suits us the best. And boxes emerge as the ideal candidate for the packing services. In short, there is little you can trust with shoppers and bags. But people keep on utilizing them due to the cost factor.
Customizations with Boxes
Custom Boxes present users with tweaks that they can utilize. These additions or customizations present users with a unique opportunity. They can alter the outlook of their box efficiently. Thus, a single box turns out as a diverse packing option. From food to clothing and beyond, there is nothing you cannot cover with boxes. But sometimes, there is some requirement to obtain this efficiency. And that is to include several additions in your custom boxes.
· Shape
The initial decision you need to make is regarding the shape. A box with an efficient shape serves the purpose ideally. Shapes identify what products will come inside ideally. In essence, the perfect accommodation of products depends on the shape of the boxes.
· Design
To sell faster and beat your rivals, design matters a lot. In addition, this is one of the factors in customization. Proper design is good. But a stylish and accurate design is the wish of many. It is because in such a way you attract and sell more likewise. Hence, your Custom Boxes need to have a useful design.
· Locking
Some products do not stress the requirement to have tight locking. However, a few products cannot move further with packing without locking. Thus, through customizations, you can easily adopt a good locking method for your box. This way, your necessary items remain safe and secure.
· Partitions
Few industries or sellers require to sell more through a single box. For them, there is no option to purchase or make use of more boxes. For this, they have to rely on simple additions or tweaks. One is the use of partitions. Partitions help users to fix sections within a single box. This allows your box to accommodate several items within it.
· Internal Covering
Food items make use of oil and several fresh ingredients. These ingredients leave the food and stick to the boxes. This often makes your box soggy and damages it. To avoid this, simple customization is the use of food paper. It offers an internal covering to the box.
· Outside Covering
This covering is what reflects the purpose of customization. You can easily cover your box with foil paper of gold color to stand out. Or you can apply a matte or glossy finish to your custom boxes. This presents users a great option to contain other products likewise.
· Branding
All Custom Boxes find perfect importance and usage since they allow easy branding. With these boxes, now you can advertise your products and brands. And that too in a low cost in comparison. Hence, the application of logo, trademark, and graphics is beneficial for you through boxes!