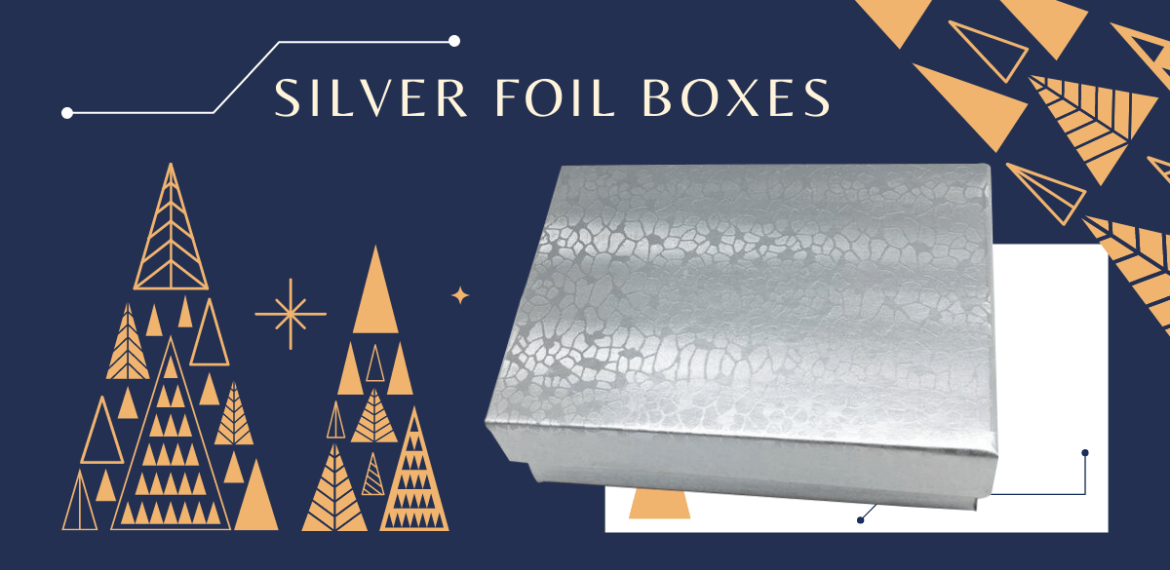 Comments Off

on Improve Your Branding and Marketing Through Silver Foil Boxes
Improve Your Branding and Marketing Through Silver Foil Boxes
Silver Foil Boxes Effective packing material is hard to find by. However, limitations in the packing products do not cause this. Rather, it is the negligence of the user. Sometimes, people do not care about packing their products in an ideal way. All they focus on is to manufacture and sell their product in bulk. However, an effective way of selling a product faster is to advertise in the best possible way. In advertising, there are no limitations. 
All you need is a clever and able mind to think ahead of others. This is the requirement in the modern century. People do not look out for ordinary things. They attract the most appealing item on the shelf. To make your product and item one of these, try to make use of Silver Foil Boxes. This box has a silver look. However, the magic begins beyond the silver color. The advertising charts rise with this box, and your products get a good selling agent.
Marketing and Packaging
Marketing and packaging have had each other's side for a long. However, people do not understand this fact. They either fall for the marketing strategy. Whereas some fall for the packaging side of the product. But rarely someone implies that both of them work the best together. For example, marketing is the key to successful sales. However, packaging casts the first impression on the viewers. Thus, if you combine both of these, you get an ideal unit.
Marketing is not possible without packaging. And good packing does not always guarantee bulk sales. If you stylize your packaging in the best way, only then your product achieves sales. The more you implement and diversify your packing, the more marketing strength you achieve. This is why silver foil boxes have immense importance and acceptance. Through a box, you can modify and stylize in any way you like. This is the freedom that many other packing products do not offer. 
Where Bags and Shoppers Lack?
A box is an ideal packing product. It has loads of benefits to offer. Some of these are related to the economic side. Whereas some of them solely relate to the packing side.
A box offers:
Easy and effective packing option for your product
An economic way of packing since all materials have low cost and easy access
Efficient stacking over shelves by consuming less space and allowing more storage
Safe handling and packing of the product
Whereas paper bags and plastic shoppers lack in providing these benefits. In essence, they consist of many negative aspects a lot:
Paper bags offer the least security. It is easy to tear it and access the product inside.
A paper bag does not offer strength. This means you have to carry these bags through complete support.
Plastic shoppers offer less security than boxes.
Shoppers do not offer a stiff and rigid packing product.
The shoppers do not carry heavy products with ease.
Boxes for Advertising
In this light, boxes that include the advertising factor are gaining popularity. For this, a silver foiling on a box is the best. These boxes offer easy marketing and advertising feature. Firstly, such a box offers a pre-built shiny color that solves half of the issues. In essence, it is a box thus it will offer safety and strength to your product.
You can modify this box in multiple ways you like.
· Box Design
You can design your box however you like. This only comes with boxes. To offer accurate packing, consider the size of your product. Then, make the box that will precisely accommodate the product.
· Foiling Level
Silver foiling is one of the aspects of these boxes. However, you can adjust the level of silver foiling as well as the color. For instance, you can decide how many layers of foiling your box needs. Moreover, you can decide between silver shades which you want to include.
· Style
Different box styles are available for your selection. Select the best style so your product remains safe and accurate inside the box. You can select from the styles which offer the best features including locking.
· Sneak Peek
If you care about advertising a lot, this is where your box can stand out. Add a see-through window to your box so that it looks stylish. This window or space allows customers to see the stored product. Thus, it helps in product identification as well.
· Material
Moreover, you can select the best material for your box too. Kraft, cardboard, and corrugated material offer different benefits and limitations. Kraft offers good stiffness and rigidness. Corrugated materials offer the highest level of rigidness and safety. Whereas cardboard offers good support for lightweight products.
· Brand Promotion
Marketing and advertising are incomplete without branding. For this, it is the need to customize your box to promote your brand. Brand promotion is possible through graphics such as logos, product images, and other designs. Moreover, you can include a calligraphic design in your box as well for a royal look.
Pack Your Favourite Materials
Packing is not limited to advertising and selling. However, efficient packing is dependent on the product you intend to store. Sometimes, a packing box is not enough for quick selling. This is because your packing box does not accommodate the product ideally.
For this, you need to make sure what your box with a silver foiling can pack.
· Jewelry
Jewelry is the only product that requires adequate packing at all costs. This is because such products move forward as gifts and presents. Thus, the outlook matters a lot.
· Wristwatches
A wristwatch requires small packing however it needs to be sleek. For this, such boxes come in handy allowing stylish packing. The foiling makes an even better case for these boxes.
· Journals
Top-class institutes, as well as firms, gift their employees and partners with journals throughout the year. This is where these stylish boxes have importance.
· Food
The food industry relies on such Custom Boxes the most. This is because of many reasons but health tops the list. Such boxes keep the food warm and healthy.
Your Best Materials at Your Disposal
When making or selecting a packing box, it is ideal to select the best material. This is because safety is what everyone demands. Thus, an ideal silver foil box solves all the issues that might arise. In essence, three materials make the best packing boxes.
· Cardboard Boxes
A cardboard box is the simplest packing box. This box is ideal for storing lightweight products because of its nature. This is because it offers the least rigidness however enough for packing your product the best.
· Kraft Boxes
A kraft box offers good strength and stiffness than a cardboard material. However, this material does not store and pack heavy products. In essence, kraft boxes store medium-weight products at best.
· Corrugated Boxes
Corrugated boxes have wide acceptance and popularity. This is because such material has a great thickness on offer. It includes a partition in between two layers thus offering safety during dropping.
Many manufacturers love corrugated material for making the boxes. This is because such a box covers all products and offers a singular packing solution. In essence, all packing boxes including Silver Foil Boxes offer economic packing and thus feel easy on the budget.