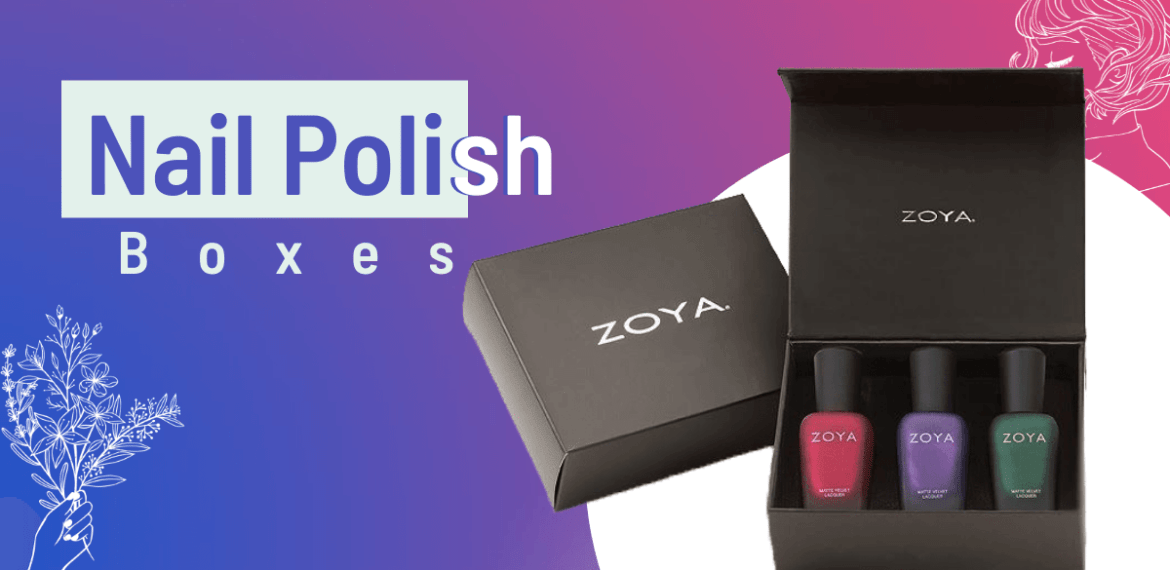 Comments Off

on Nail Polish Boxes: Look Beyond The Product
Nail Polish Boxes: Look Beyond The Product
Nail Polish Boxes Every cosmetic industry thrives on product variation as well as customer satisfaction. The cosmetic industry stands on these pillars. It offers products to cover all aspects of the human body. Whether is the accessories which they love or the makeup which they like to apply. The cosmetic industry has a responsibility to provide people with the best. And for a long, they have been doing their jobs efficiently. However, there are some other areas that cosmetic brands need to look after. 
Packaging is a key element in product sales. In essence, proper packaging develops various and innovative ways to sell and promote products and brands. This is why people nowadays focus on packaging products to cover the advertising department of their brand. A common cosmetic item is nail polish. However, sellers do not just hand you the product. Rather they make use of ideal Nail Polish Boxes. These boxes perfectly store your products and keep them neat for instant usage.
The Importance of Boxes
Boxes compete with two other primary packaging products. These include paper bags and plastic shoppers. Competition is healthy in every department and industry. It brings the best one forward and allows the mediocre ones to work hard. All products offer benefits as well as contain loopholes. But it is more benefits that cause one item to succeed over the other. Thus, in all cases, you will find boxes emerge victorious over the other.
· Paper Bags
Ordinary and mediocre best describe the paper bags. These bags were used in the old times for carrying groceries and other consumable items. However, over time, it is hard to find what their use remains. There is no security and strength on offer. Moreover, these bags want you to carry them. Thus, there is no help for you to carry them. However, the economic packing is what people go after. But these bags provide more negatives.
· Plastic Shoppers
A slight update in strength and safety comes with plastic shoppers. These shoppers although allow easy carrying option through spacing. But shoppers also contain cons more than benefits. At first, the shoppers do not have a firm shape. Whatever product goes in them gives its shape to them. But shoppers cannot hold heavy items. Although you can contain heavy items in them, with this security becomes low.
· Boxes
Boxes come with loads of benefits as well pros. They provide a firm and stiff shape. The rigidness is also great which is on offer. Moreover, boxes easily pack light to heavy items depending upon the material that makes them. This is another great feature of boxes. Three materials offer boxes providing different strength levels. Cardboard material stores lightweight products. Kraft material stores medium-weight products. Corrugated material stores heavy items.
Considering Cosmetic Boxes, boxes offer the best packing. These boxes come with great features which allow easy storing of all cosmetic items. Cosmetic items require perfect placement. For this, nail polish boxes offer the best help since they come in variations to serve all products. 
Box Designs
If you want to pack cosmetic items, you require perfect boxes. However, these boxes come in various designs so you can have a diverse set of boxes. This allows you to store products differently and to present a diverse outlook. For this, you need to select some popular designs for your nail polishes.
· Die-Cut Boxes
A die-cut box comes with an easy opening feature. However, these boxes contain multiple opening spaces. Generally, such boxes have openings at corresponding sides. Thus, you will find it easy to insert and access your items. Moreover, this design allows quick access and application.
· Telescope Boxes
A telescope box design is favorable if you want to pack bulk items in a box. Bulk items require complete viewing by the user. And this is why they prefer a box which opens completely to the full. Such design offers the top covering to separate from the base part that contains the products.
· Partition Boxes
Another great design that bulk packing favors is a partition box design. Often, this design comes in conjunction with the telescope design. The outer side of the box is of the telescope design. Whereas the base part adopts the partition box design to separate the products. This is design is very popular in the case of cosmetic items.
· Rigid Boxes
A rigid box has no specific design through the design only offers a fine stiffness. This is in the case when heavy items need packing for long-distance transport. Thus, strength is what sellers and users require for the safe delivery of valuables.
· Display Boxes
If you own a shop and you display different cosmetic items such as nail polishes. This is where such designs favour your idea. Display boxes have no top covering. They offer a complete view of the items without any interference. Moreover, such boxes promote quick sales of the products too. Thus, they have immense importance in the cosmetic industry too.
Box Customizations
Custom Boxes allow this liberty to the users to design them however they like. This includes tweaking the size, design, and branding options as well as making a few additions. All of this is to promote the product through these boxes.
· Size
An accurate size has a great responsibility in packing. This is because a good size accommodates the product in the best way. Bulk storage requires a good size. Thus, your box must have the adequate size to pack different quantities of products.
· Design
There is no rule to have a uniform or similar design of the packing box. You can use different designs from the above or adopt some other designs too. Moreover, all designs come into effect depending upon your needs and customer requirements if there are any.
· Padding
Sometimes, nail polishes come in glass containers. Thus, the breakage factor is extreme in this case. For this, you must act smart and include padding material in your box. It can be soft cotton or other.
· Internal Covering of the Box
Just like food items, cosmetic items allow having the risk of leakage. Thus, this can easily damage your box and sometimes make it wet and cause it to tear. To avoid this, it is beneficial to cover the box internally. This is to wrap the inside of the box with some paper.
· Branding
Although boxes that contain nail polishes come in small or decent sizes. However, still, they offer great opportunities to promote the brand as well as the product. You can advertise while making use of each side of the box. You can even use the top and bottom opening spaces to advertise too. Add your brand logo, production information, as well as product image to the box too.
· Finishing
Covering your brand logo or the name with a gold or silver foil is the best finishing you can add to your box.
Boxes at a Glance
All packing boxes help and serve the brands in the best way. They offer a helping hand to pack, contain, and stack their products in the best way. Nail Polish Boxes, for instance, help the cosmetic industry in many ways. They offer a unique packing style for small and efficient cosmetic items.